+++
New Brochure Gianni Brunelli – Le Chiuse Di Sotto
Our new brochure with updated information of our estate.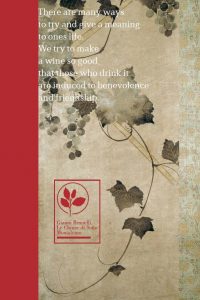 Brochure Gianni Brunelli – Az. Agr. Le Chiuse di Sotto (pdf)
+++
Bottling Gianni Brunelli Brunello di Montalcino 2013
After a long period of ageing in Slavonian oak barrels, it is time for our Brunello di Montalcino 2013 to finally be in the bottle! Each plot was vinified and aged separately until the final blend before bottling. The slow and prolonged ripening allows the wine to clarify naturally, without the need for external intervention, letting nature doing its job, thus requiring only a slight filtration before bottling. The 2013 vintage was fairly rainy and provided good water availability. A summer not too hot and rainy with temperatures far lower than the 2012 vintage. At this point the wines show great aromatic purity with a beautiful complexity, succulent acidity and powerful tannic structure. Key factors for a long and promising life.